The construction trade is in a state of flux. Disruptive technologies such as 3D printing, virtual reality assisted design, off-site modular construction and increased mechanization are already here, or expected to arrive soon. Even if these developments have not yet affected your business, you should be aware that the times, they are indeed a 'changing. In order to stay competitive as the industry evolves in fundamental ways, it will be essential for your company to embrace these changes proactively, instead of when you're forced to.
Problematic Project Management
As the economist J. K. Galbraith once noted, erecting a building is a complex undertaking, which requires various contractors, workers, machines and materials to be on the site at particular stages – which is why there often seems to be nothing much happening on any given building site!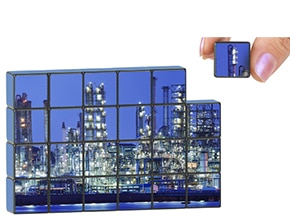 Managing even a modest construction project involves far more than telling people to pile bricks on one another: various kinds of stock and subcontractors need to arrive when they are needed, or work has to stop until they do. Ordering too much inventory will leave you stuck with material you can't use, while ordering too little is even worse. Uncontrollable factors such as weather and mechanical breakdowns can slow down progress even further, and all the while the specter of deadlines and possible penalty payments is watching over your shoulder.
An Integrated Solution
Most construction businesses still use one software package for quantity surveying, one for estimating software, another for managing project timelines and yet a third for accounting and inventory control. The disadvantage of this is that these programs don't automatically talk to each other when changes are made in any one of them. Especially when multiple people need access to the updated database information in real time, this can cause serious (and costly) management errors.
A few software companies have at last become aware of the challenges this fragmented software strategy presents to effective project management in the construction industry. Construction managers can now search for a solution that combines almost every function, from receiving a request for quotation to finally invoicing the client, in one software package.
A More Effective Management Tool
While this software, which is available in editions suitable for any business from a one man show to firms handling dozens of projects simultaneously, still bills itself primarily as a quantity surveying program, this is only one way it can add value to your business.
While it can indeed be used to estimate costs, the advantage of integrated construction software is as a high-level management tool. Different screens can provide you with a complete summary of the state of your business, your projects, your suppliers, your clients and even where your staff are, at a glance. Without this functionality, a person in charge of several ongoing projects would have check the status of each, individually, before being able to allocate priorities and resources efficiently.
Another bonus for managers is the user-friendly scheduling system, which should be fully integrated into the way the program manages multiple simultaneous jobs and can even generate a work calendar for each employee. Among other things, this makes intelligently responding to unanticipated changes much easier.
It is this and many other efficiency-generating functions which make this estimatingsoftware worth looking at. Other industries, such as fleet management and logistics, have long had similar management packages to make life easier and planning less error-prone; it is high time construction joined the 21st century.